Transformer
We are leading industrial group in the region, manufacturing of well known & proven brand INSTA-POWERTM make Super Energy Efficient(Power Saver), Distribution Transformer.
Oil filled & dry type distribution Transformer
Furnace Duty Transformer
Lighting & Isolation Transformer
Silent features
Most economical and perfect electro-mechanical designing of the product by combination of latest designing software and experience in the field
Stringent inspection norms for raw material
Foolproof manufacturing process by qualified and skilled manpower
The stringent quality checks during manufacturing process and final testing
Higher efficiency , Robust Construction, Easy Maintenance, High reliability & Minimal losses
We use CRGO silicon steel metered cores and paper covered conductors. The Units are made compact resulting in lower losses, better regulation and longer life.
Careful design of the core and tank reduce noise level to the minimal decibels. The clamping method adopted by us helps to keep the optimum properties of the grain-oriented silicon steel core, without reducing their mechanical stability.
Winding on HT side are provided with sufficient end-turn reinforcement for extra strength. Winding are preshrunk and impregnated under vacuum with hot dry transformer oil before assembly to ensure proper functioning.
Radial as well as axial clearances and cooling ducts provided for the coils add to the safety and uniform cooling of the winding and limbs.
Winding are designed to withstand sufficient thermal, dynamic and electrical stresses included during operation as well as under short circuit condition.
Each tank is pressure tested and the exterior surface coated with primer and 2 coat of weatherproof Epoxy paints the shade being as per IS-5 standard.
The interior is given anti-corrosive protection with oil resistant varnish, Transformer will be supplied with first filling of insulating oil conforming to IS-335 standards.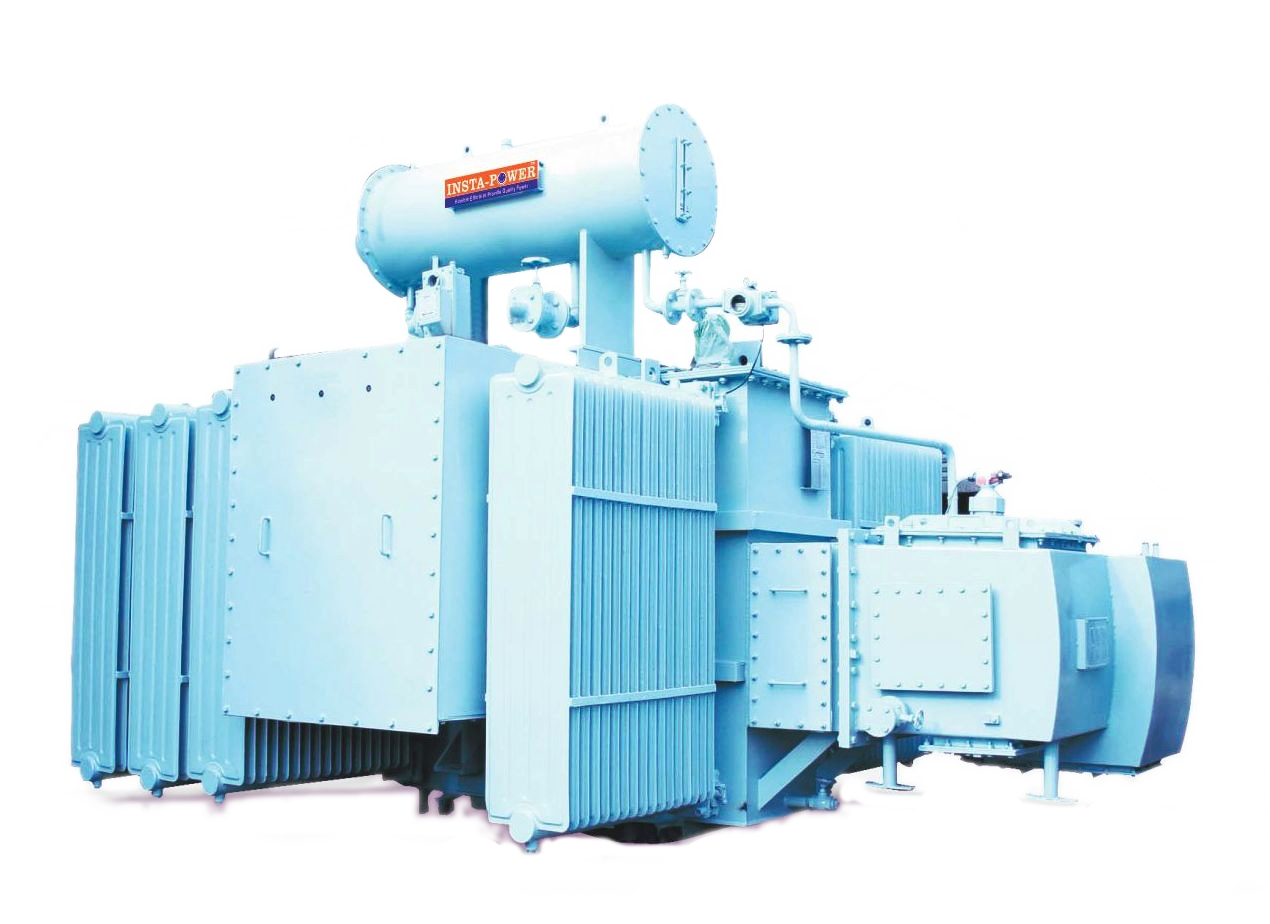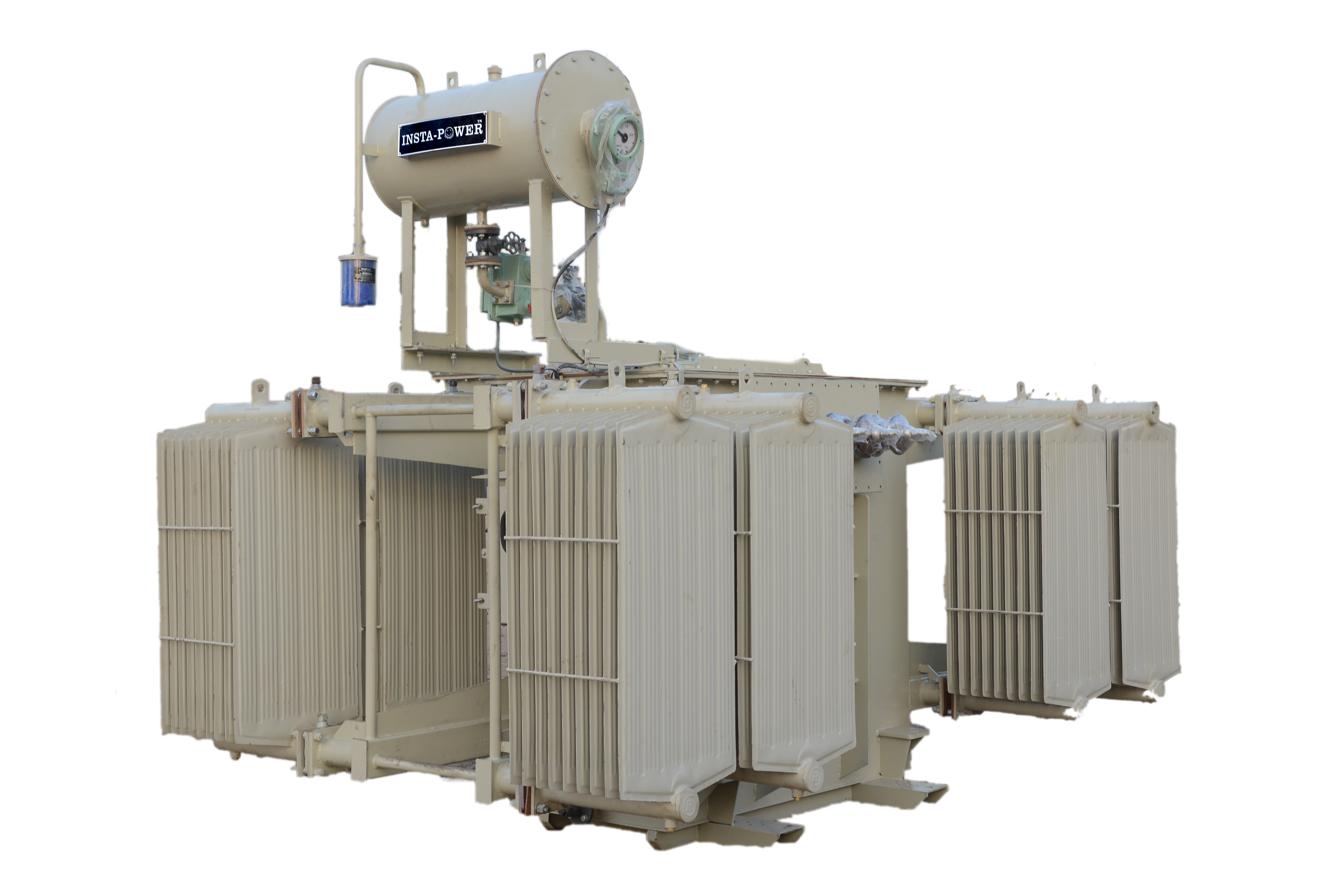 Servo Voltage Stabilizer
Single Phase & three phase Servo Voltage Stabilizer
Air Coolled & Oil cooled Servo Voltage Stabilizer
Silent features
Automatic High/Low Voltage Cut-off, Overload & Short-circuit protection through MCCB.
Digital multipurpose display meter, Single Phase Prevention
Input-Output Voltage Selector Switch, Radiator for oil Circulation Cooling (if require in oil cooled)
Good quality Electrolytic Copper Wire and recision lamination Core Assembly of highstrips (EC Grad) quality silicon steel(CRGO)
Precision lamination Core Assembly of high Tin Plated Copper terminal & Bus-bar
Steel Enclosure with Powder coating, Best Quality Insulating material to suit
Chemically Treated plated hardware and fittings
Particular class of insulation
Core Type Transformer
Standard Make Switch Gear & Control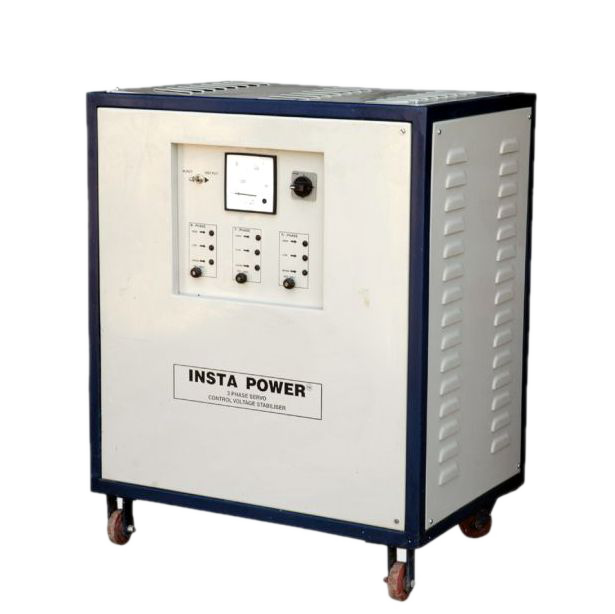 Pure Sine wave Online UPS
Online UPS system with SMF Batteries for Power back-up during abrupt power interruption
Silent features
Double Conversion Online UPS, Intelligent Microprocessor Control.
Wide Input Range, Inbuilt isolation transformer for galvanic isolation.
Heavy Duty Battery charger through Grid up to 100%, Cold Start on Battery.
High Efficiency, Compact system, lowest footprint to kVA ratio in its category.
True Sine Wave Output, SNMP compactable, Suitable for Inductive Load.
Single PCB micro controller based technology, PWM IGBT technology & LCD Display.
True RMS reading of more than 25parameters of UPS, Quite operation, low audible noise.
Superior output quality
Output voltage distortion < 2%*, Multiple 32 bit DSP controllers, Changeover time < 5 ms & Space Vector Modulation
True Bi-directional Inverter, Modular construction gives higher MTTR( >30 kVA)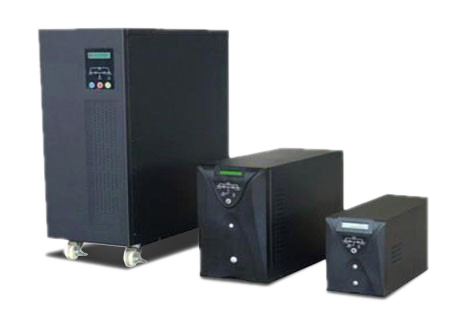 ERDA Test Certificates for our Products
Our Transformers and Servo Voltage Stabilizer has successfully tested through Electrical Research & Development Council(NABL(Government of India) accredited Laboratory), Vadodara Test Reports are as under
Third party certifications for our Products
Our Transformers has successfully tested by third party(Electrical Contractors/Consultants), Purchase order of the party and its Test Reports are as under